What Is Secondary Damage?
4/16/2019 (Permalink)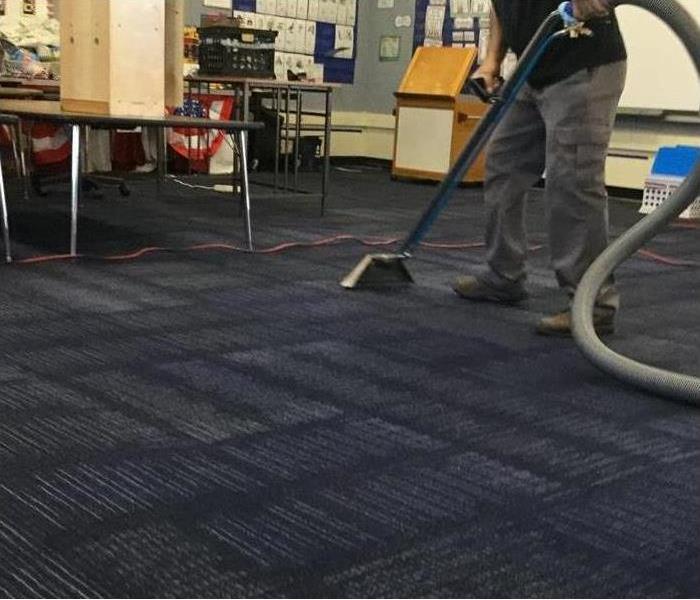 SERVPRO uses equipment to remove water and dry properly to ensure no moisture is left for secondary damages.
While water is essential for your survival, it doesn't suit you well in some situations, especially when it comes into contact with materials in your office building in large, sudden quantities or consistently over long periods of time. An immediate burst of flooding can cause terrible damage, but undetected water over many months or years can introduce secondary damage and other problems such as black mold. It's important to understand the issues that can arise when gradual water damage occurs.
How Flooding Starts
You try to guard your Aliso Viejo, CA, business against disasters, but they're not always possible to predict or prevent. Floods are among the most devastating emergencies you could face at work and one of the biggest causes of secondary water damage. Here's how they can start:

• Sewer backup
• Leaky or broken pipes
• Weak roof or missing roof shingles
• Poor drainage
• Water that finds its way into your building's foundation

What It Leaves Behind

When water gets on the floor, onto furniture or on the drywall, you may face damage even after you clean it up. This is known as secondary damage. From this, you may find fungal growth and other bacteria in parts of your building. It usually requires a trained professional mold remediation specialist to remove.

What Happens If You Find Mold

If you spot this type of damage, there's a good change black mold is present. This isn't something you should try to clean up yourself, and you definitely don't want to ignore it. A professional crew will use specialized chemicals and processes to get rid of the mold and sanitize the affected area so you feel comfortable resuming your work duties in the building.

What You Should Watch To Stay Proactive

Parts of your building with high humidity, such as laundry facilities, bathrooms with showers or exercise rooms, may be susceptible to mold growth before or after a flood. Also, you should check your plumbing systems regularly.

You don't want to find black mold at work. Be on the lookout for problem areas and be prepared to call the professionals if water damage occurs.