Why Sand Bagging May Be a Sign of the Past
5/11/2019 (Permalink)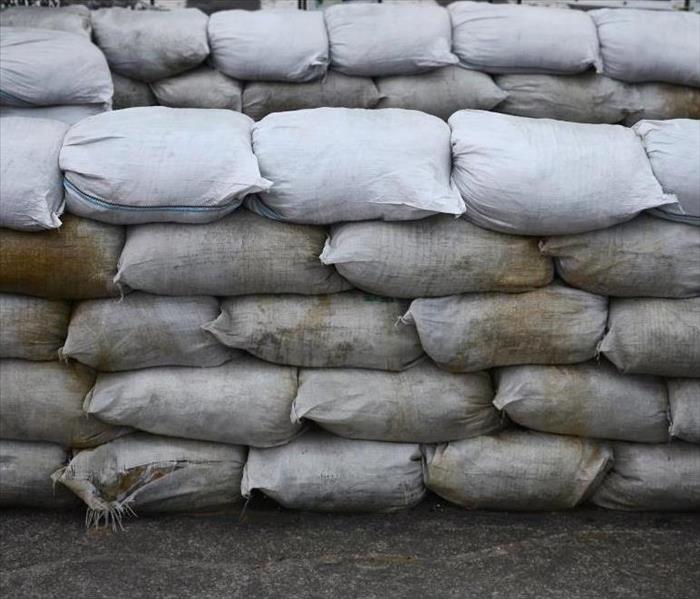 There are several ways to prevent flooding of a commercial property without resorting to the usual sand bag.
Each time a community such as Laguna Beach, CA, faces flooding, the news channels are filled with people working tirelessly to fill sand bags. However, these barriers aren't the only choice for flood prevention. The sand bag has several major drawbacks, including:
Difficult removal
Environmentally hazardous
Labor intensive
Time consuming


There must be faster or more effective alternatives, particularly when companies are concerned with protecting commercial property from flood damage. Not surprisingly, new inventions and technology are improving the way communities protect against flooding.
Flood Fence Barriers
Large properties, such as those containing a building or factory, would be very difficult to sand bag. Several different types of flood fencing can work well. Basically, these are large fence-like barriers put around a property to act as flood dams. They are relatively easy to put into place, but they do need to be ordered ahead of time. Some flood fences need to be filled with water, while others work right out of the box.

Water-Absorbing Bags

For smaller flooding concerns, water-absorbing bags are a good option. These are lighter than traditional bags containing sand, and they can often last ten years. They can be very effective in front of doorways or warehouse garage doors. One drawback is that, although they can protect a building, they don't protect an entire property.

Large Scale Solutions

Occasionally, a business is in close proximity to a particular creek or small river that is prone to flooding. Areas in northern England have used large steel barriers on the water's edge. These can be raised or lowered to prevent water from entering a particular area. This would only be appropriate if it diverted the water to a source with more capacity to handle it, but it is an effective alternative to regularly calling in water restoration specialists.

There are several ways to prevent flooding of a commercial property without resorting to the usual sand bag. Fence barriers, water-absorbing bags and even installing steel barriers are several viable options. Regardless of your choice, it is important to be prepared ahead of time and have a plan in place.